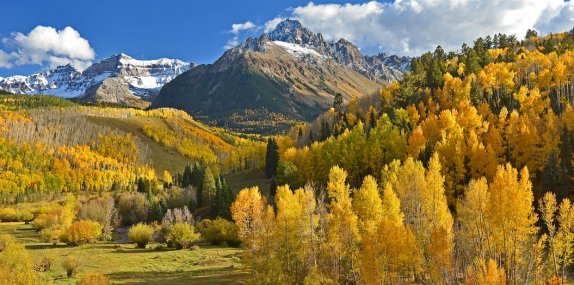 News & Blog
|
Blog
Posted 09.10.18 by Liam Walsh
Lord Kelvin is famously quoted as saying: "To measure is to know. If you cannot measure it, you cannot improve it. When you can measure what you are speaking about and express it in numbers, you know something about it."
A key stage in the application of the Natural Capital Protocol is to determine how a business is contributing to changes in the state of natural capital and what can be done to reduce their impact. Measurement is a crucial step on the path delivering on a natural capital strategy.
For companies with a supply chain, some of the largest impacts on natural capital occur upstream in their value chains, particularly on farms where raw materials are produced. And whilst companies may not own or control these natural assets themselves, they do benefit from the ecosystem goods and services they provide. The decline in these natural assets poses a potential risk to the business.
Many companies are already making progress trying to reduce their impact on natural capital in their supply chains. Companies are supporting the adoption of good farming and conservation practices to protect and restore ecosystems. Companies want the opportunity to demonstrate positive impacts and show they are reversing the trend of environmental degradation but many don't have access to the right measures that are simple to use and influential to their decision making processes. As pressure on natural capital increases, companies need credible information on the relationship between their activities and natural capital impacts across their operations and supply chains.
The Cambridge Institute for Sustainability Leadership (CISL) has worked with companies in the
Natural Capital Impact Group
, leading NGOs and academics to develop the Healthy Ecosystem Metric.
The metric combines three sub measures on soil, water and biodiversity and provides an indication of the impact a company is having in different places and where there are opportunities to reduce their impact through their operational decision making.
The Healthy Ecosystem Metric has been designed to help companies:
Measure the impact of sourcing raw materials on biodiversity, soil and water in global supply chains
Identify high-risk locations where a company is most likely to experience biodiversity, soil and water risks or create negative impacts
Drive the collection of credible impact data that companies can use to develop targets or KPIs
Inform response strategies to safeguard natural capital and drive improved business performance
Work on the biodiversity sub measure is more advanced. Developing measures that are sensitive enough to signal improvements or deteriorations in biodiversity impacts is a significant challenge. Biodiversity is a complex and multi-faceted concept. Thus, it is very difficult to measure using a single metric that allows aggregation of impacts around the world. Whilst there is never likely to be agreement on an approach that can represent the full spectrum of impacts on biodiversity, there is an urgency to develop indicators that, at a minimum, allow business to see if their decisions are conserving biodiversity or leading to its degradation and loss.
The Biodiversity Impact Metric is a quantifiable measure that can be used to assess and track the impact of a company's land use activities on biodiversity in a given area.
The basic framework for the metric is as follows: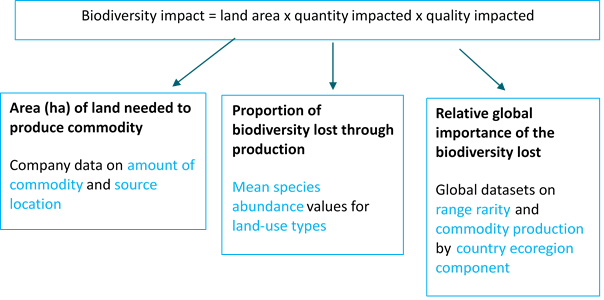 In essence, the metric has been designed to provide information on:
What is the state of biodiversity in an area? How has it changed relative to a baseline?
How important is the biodiversity in an area relative to other areas?
And how much of the change in the state of biodiversity (both negative and positive) can we attribute to the land use of a particular company?
The metrics were officially launched in July and are currently being tested by different members of Natural Capital Impact Group. Over the next couple of months as the metrics are rolled out we will explore whether they can inform decisions on the management of raw material supply chains and help companies to improve risk and performance management of natural capital in their supply chains.
Liam Walsh is the Natural Capital Programme Manager at the Cambridge Institute for Sustainability Leadership