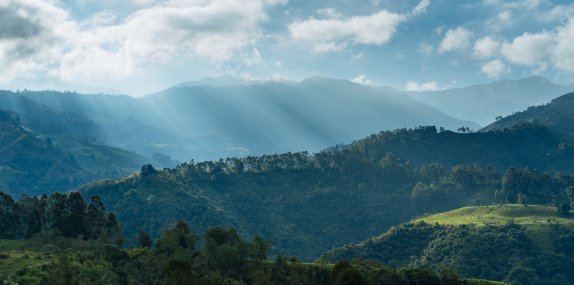 News & Blog
|
Blog
Posted 14.07.17 by
Natural capital accounting can provide the much-needed holistic approach to policy making that will be crucial for meeting the United Nations' Sustainable Development Goals by 2030.
The 2030 Agenda
In 2015, the UN set themselves an ambitious target for the next 15 years by adopting 17 Sustainable Development Goals. Together, these goals set out a global development agenda seeking to eradicate poverty and ensure environmental sustainability by 2030. This framework of 17 goals, comprising 169 individual targets, has been designed as holistically as possible by focussing on the environmental, social and economic pillars of sustainable development, where progress in one will further progress in others.
While only one of the Millennium Development Goals was specifically focused on the environment, it is this that underpins all of the Sustainable Development Goals, acknowledging the key role that the natural environment has on increasing overall social and economic prosperity. Whilst these new goals provide a valuable framework for governments when developing their national policy, most departments lack the necessary data handling tools regarding the environment in order to ensure that the right decisions are made to reach these targets.
The Right Tool
If the Sustainable Development Goals are to be achieved by 2030, policymakers on every level – business, national and international – will require quantifiable and accessible information on the environment and its relationship to society and the economy.
It is here that natural capital accounting, the process of calculating the total stocks and flows of natural resources and services in any given ecosystem, can play a pivotal role. While there are different methods of doing this, each seeks to understand the complex interactions which occur within ecosystems, and the relationships these have with market forces and human society. Clarifying these interactions can aid policymakers in understanding the myriad of linkages between these three aspects of sustainable development, and help ensure that any unseen environmental assets are fully understood, protected and utilised. For example, a natural capital account of a local fishery will provide valuable information on fish species, populations and reproduction capacity. This can then inform policy decisions on sustainable fishing quotas (SDG14), opportunities for ecotourism (SDG8), and/or the need for investment in aquaculture (SDG2).
Using this method of accounting is already informing decisions in many countries. The Government of Colombia uses it to designate water allocation between different sectors, and the South African government is using their water accounts to design climate change policy. Guatemala's forest accounts use natural capital accounting to develop public/private strategies towards increasing sustainable wood fuel production, having highlighted the tremendous damage that forest loss would have on Guatemalans, 64% of whom are reliant on wood as their main source of energy.
Going Forward
In order for natural capital accounting to reach its full potential, there needs to be an internationally recognised standard. The System of Environmental and Economic Accounts developed by the United Nations Statistics Division would be the most obvious choice as it is already being used by many nations and is currently being developed further with the Sustainable Development Goals in mind. Its adoption would produce consistent and internationally comparable statistics which would facilitate collaboration between countries who share ecosystems and biomes. Additionally, this would open up the possibility of sharing data between national accounting institutions and international reporting initiatives which would support a suitable global goal-monitoring mechanism.
At a country level, work is required to improve links between national statistical collection departments. Though the Sustainable Development Goals call for an integrated approach to development, national statistics and frameworks currently work independently of other sectors. Environmental data is collected by the relevant environmental agencies based on their specific policy needs, and economic data is collected in much the same way. Rarely do these agencies make all their data available to others, and often the diverse methodologies make it difficult to collaborate even if there was an appetite to do so. Integrating these systems and establishing the linkages between them and society at large will require support from national governmental institutions to ensure that key ministries and agencies do not only comply, but have sufficient resources to do so.
To achieve the Sustainable Development Goals, collaboration is needed across both national and global sectors. With proper guidance and expertise, governments and businesses can work together to enact substantial and sustainable change, helping to improve the lives of millions of people across the world.
The World Forum will explore the vital relationship between the Sustainable Development Goals and natural capital, and how strengthening this link will support the transition to a better sustainable world.
Jonny Hughes is a member of the IUCN global Council, Chief Executive of the Scottish Wildlife Trust, Co-Founder of the World Forum on Natural Capital, and Chair of the Scottish Forum on Natural Capital.