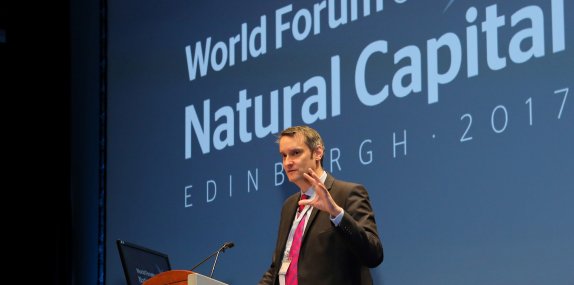 Team
|
News & Blog
|
News
Posted 07.12.17 by
OVER 700 ATTENDEES FROM 60 COUNTRIES GATHERED IN EDINBURGH FOR THE THIRD WORLD FORUM ON NATURAL CAPITAL
The First Minister of Scotland, Nicola Sturgeon, welcomed delegates to the 2017 World Forum on Natural Capital, and expressed her gratitude to UN Environment, International Union for Conservation of Nature, World Business Council for Sustainable Development, the Natural Capital Coalition and the Green Economy Coalition for their partnership and support of the event. In her speech, the First Minister expressed Scotland's commitment to continue to protect and enhance its natural capital which is crucial for the well-being of the country as a whole.
In total, over 110 speakers spoke in four plenaries and 24 parallel sessions, giving the international audience the opportunity to help shape the future of natural capital and hear the latest developments in this rapidly growing field. In addition to cutting-edge case studies and lively panel discussions, there were a number of interactive workshops. The Cambridge Institute for Sustainability Leadership led a workshop which brought delegates together to identify what businesses need in order to start including biodiversity within natural capital assessments, and IUCN hosted a multi-stakeholder dialogue which began the process of writing their Natural Capital Policy.
Aside from the interactive parallel sessions, the World Forum hosted a collection of specialist gatherings, including the Inaugural Government Dialogue on Natural Capital, the 3rd INTERPOL Environmental Compliance and Enforcement Committee Conference, the Innovation Challenge and a CEOs' Breakfast Roundtable where discussions focused on how to put natural capital at the heart of the green economy.
The evening's dinner saw the launch of the Natural Capital Coalition's first annual Natural Capital Review, the Green Economy Coalition's six-year, multi-partner 'Economics for Nature' programme, and IUCN's Red List Return-on-Investment Metric - a new innovative index to measure the positive impact on biodiversity of investments in nature conservation.
Click here to view the speakers' slides from the 2017 World Forum on Natural Capital.